Announcing the Dewey Elementary Spring Book Fair! Our theme is "Happy Camper Book Fair: S'more Fun with Books!" It will be held Monday-Friday, February 27-March 3, 2017 from 8:00 AM to 3:30 PM in the Dewey Elementary Library. We will have a Family Night on Tuesday, February 28th from 5:00 PM to 7:00 PM in the library for students and their families to shop together.
There are many popular titles to choose from, plus special value books that have been marked down. There are posters, bookmarks, pencils, erasers and much, much more. Students and adults alike will be sure to find something in the large selection.
The Book Fair will also be online this year! Online shopping has extended shopping days which are scheduled from February 22-March 7, 2017.
Go to http://bookfairs.scholastic.com/homepage/dewey to browse the extensive collection and make your purchases.
Come on in to the Elementary Library or go online to the above listed website and shop at our "Happy Camper Book Fair!" The proceeds from both on stie and online sales will go toward purchasing new books for the library. Thank you for your support!
Students Connect with Local Businesses and Relative of Local Legend
Mrs. Locke's 4th grade class at Dewey Elementary recently enjoyed a visit from Gordon Hill, the grandson of local hero and early "western" movie star Tom Mix. Mr. Hill resides in Austin, Texas and visited Dewey's Tom Mix Museum in November. While at the museum, Mr. Hill discovered a "QR code" on display at th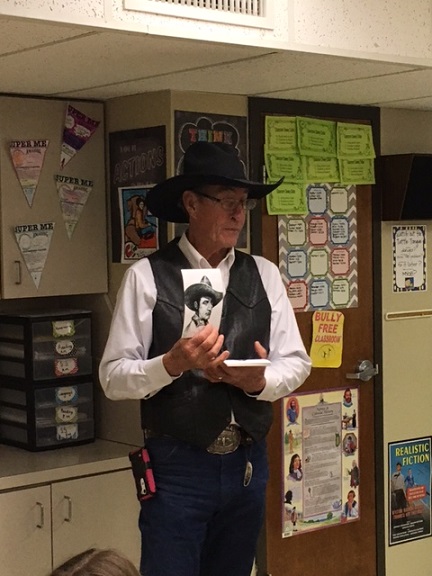 e exhibit. Scanning the QR code allowed him see a video about Tom Mix and the Tom Mix Museum.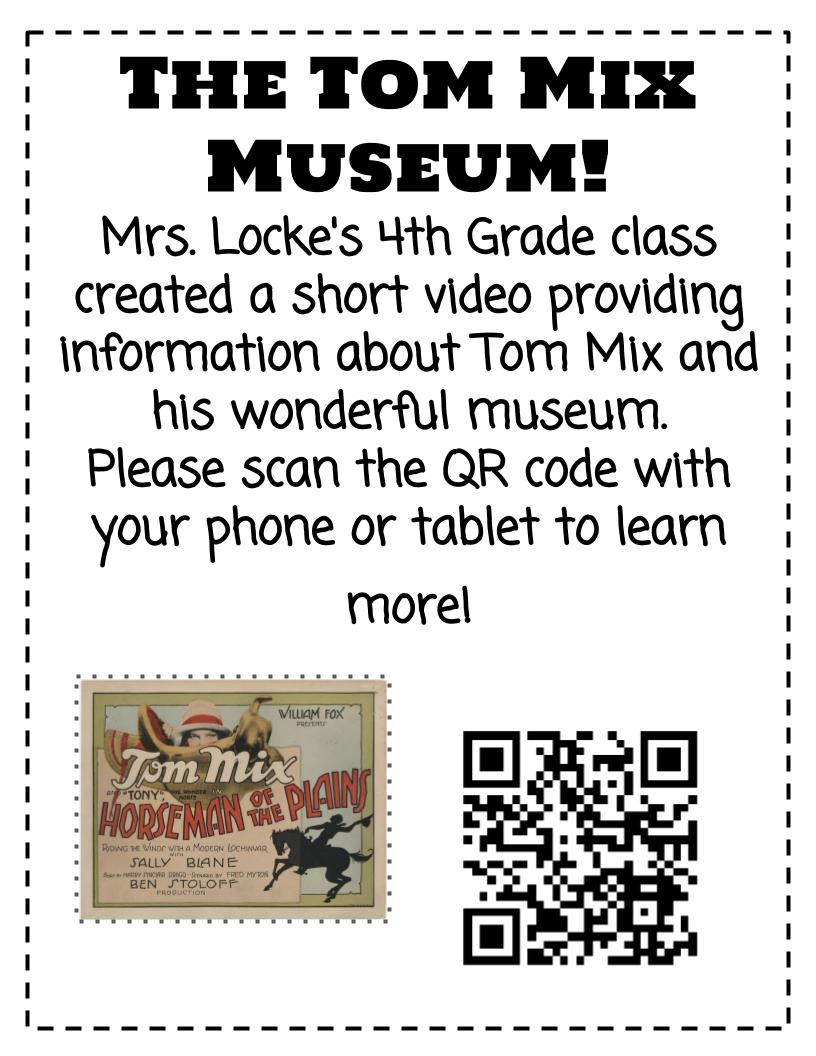 In 2015, Dewey Elementary School received a grant from the Oklahoma Educational Technology Trust. With it, the school was able to purchase 120 Ipads with a goal of enhancing learning through the use of technology. The initial focus was on teacher collaboration, shared values, and authentic teaching, but for 2016-2017 the Elementary School added community connections to their focus. As a result, groups of students in 3rd through 5th grade began a collaborative project with local businesses. Students chose businesses from the community to learn about, then created video presentations about the businesses. Students created large QR codes and posters for the businesses to display making it easy for patrons to scan and watch the videos. The QR code and video Mr. Hill watched were produced by Mrs. Locke's 4th class as part of this project.
Mr. Hill contacted the school and requested a personal visit to Mrs. Locke's class in order to express his family's gratitude for the video they created. Mr. Hill thanked the students for their work and gave of them an autographed copy of a famous chalk drawing of Tom Mix. The drawing was done the day before Tom Mix's unexpected death in a car wreck in 1940.
Job opportunities with Sodexo
Sodexo Services is accepting applications for Part Time Food Service Workers/Cashiers - Job Code 22503
Please apply online at www.sodexousa.com
Click on careers and enter the above job code to apply.
Fall / Winter Announcements
With the arrival of Winter, it is important to remember that students WILL still be outside. Even in cold weather, all students walk to the cafeterias, students travel between buildings, and Elementary students often have outside recess. Please make sure your students are dressed appropriately for the weather.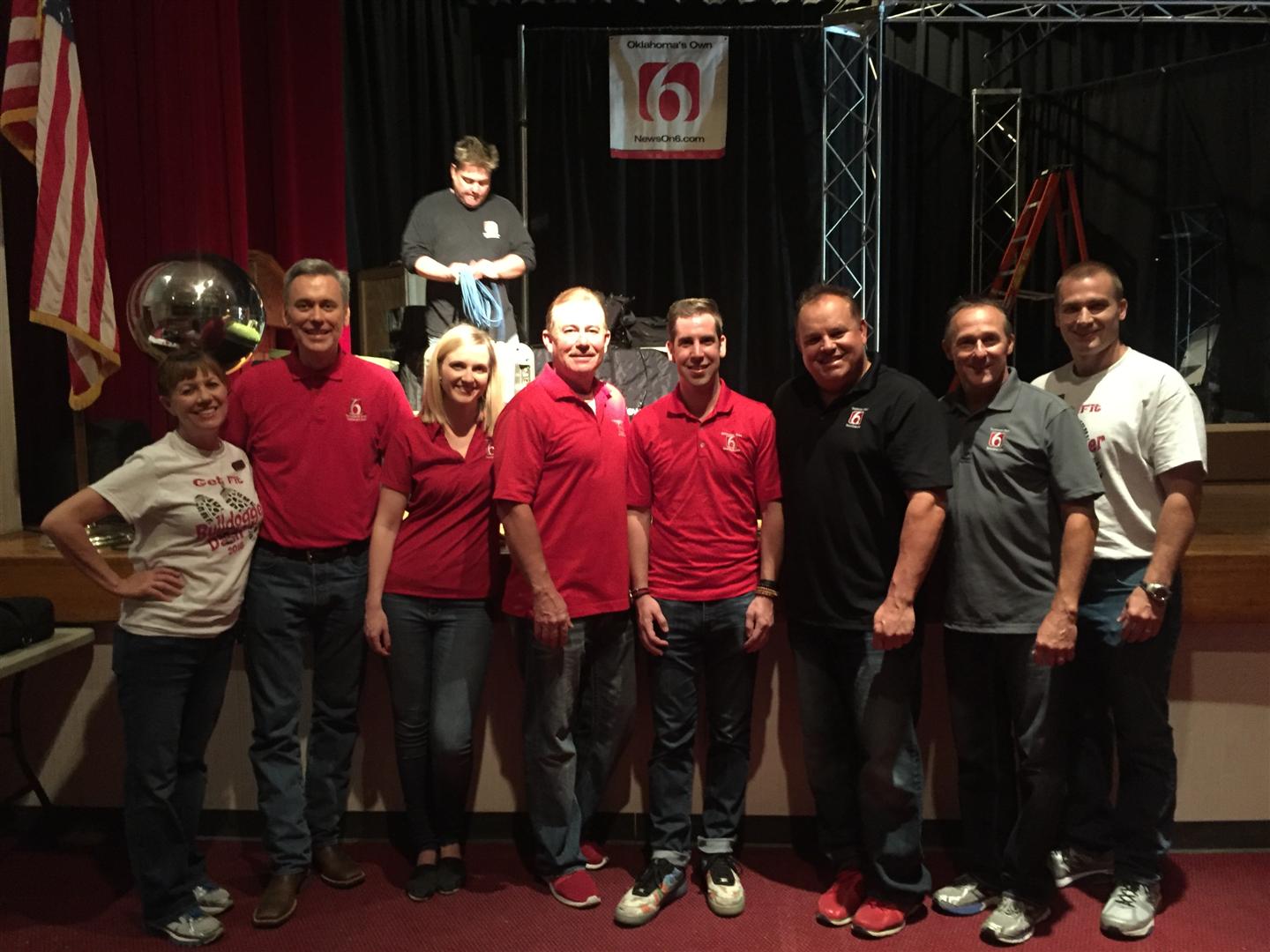 Trav's Wild Weather Camp Visits Dewey Elementary
The Dewey Elementary School was privileged to have Travis Myers and his Channel 6 team on campus discussing weather and weather safety. A big thank you to the entire "Trav's Wild Weather Camp" team, especially Radar the Weather Dog, for taking time to visit with us!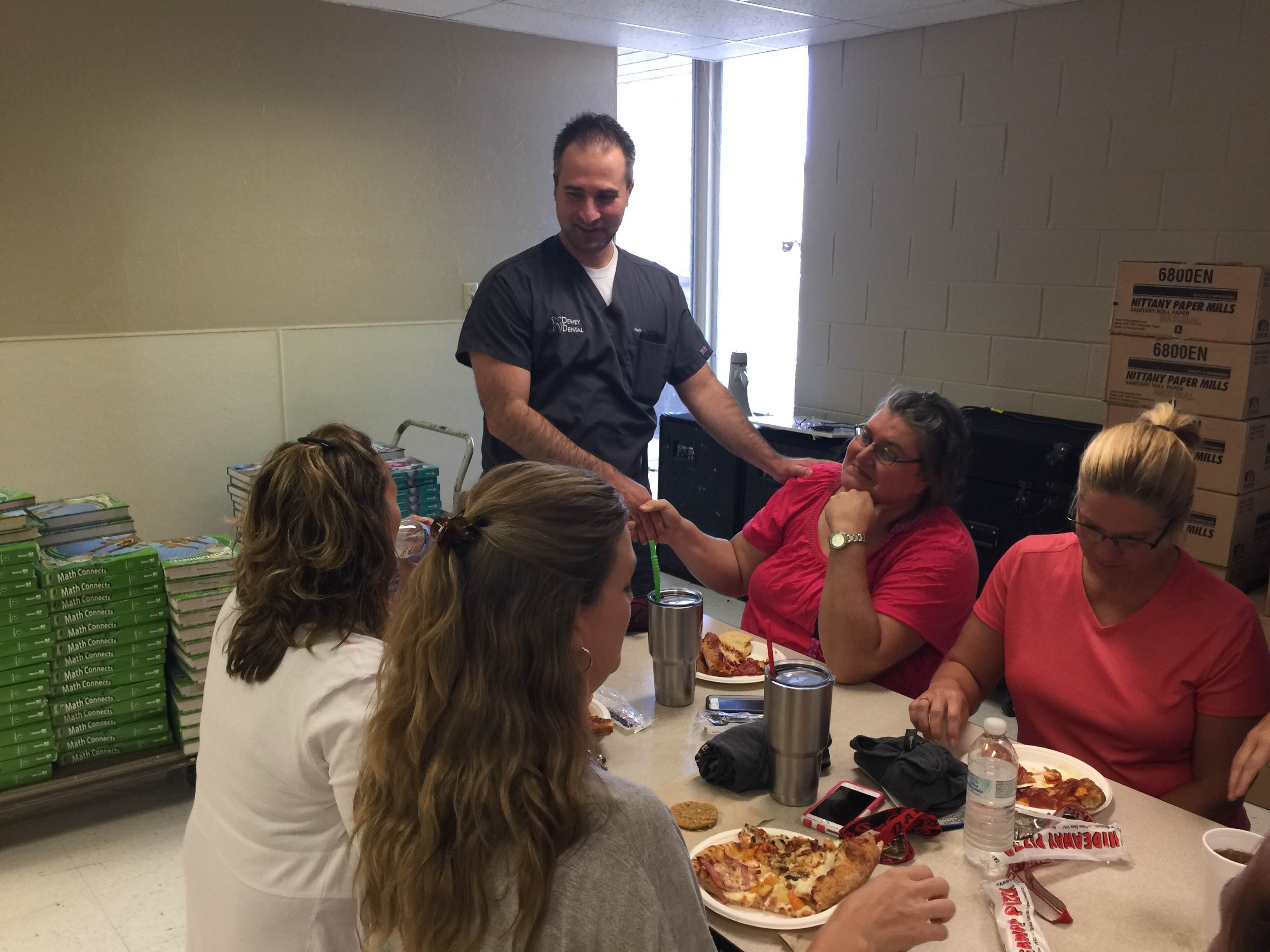 A big thank you to Dr. Bulleigh from Dewey Dental for providing a HS/MS Staff meal for Parent Teacher Conferences. Community support means so much for our school.
Lady Dogger Volleyball Wins on "Pink Out" Night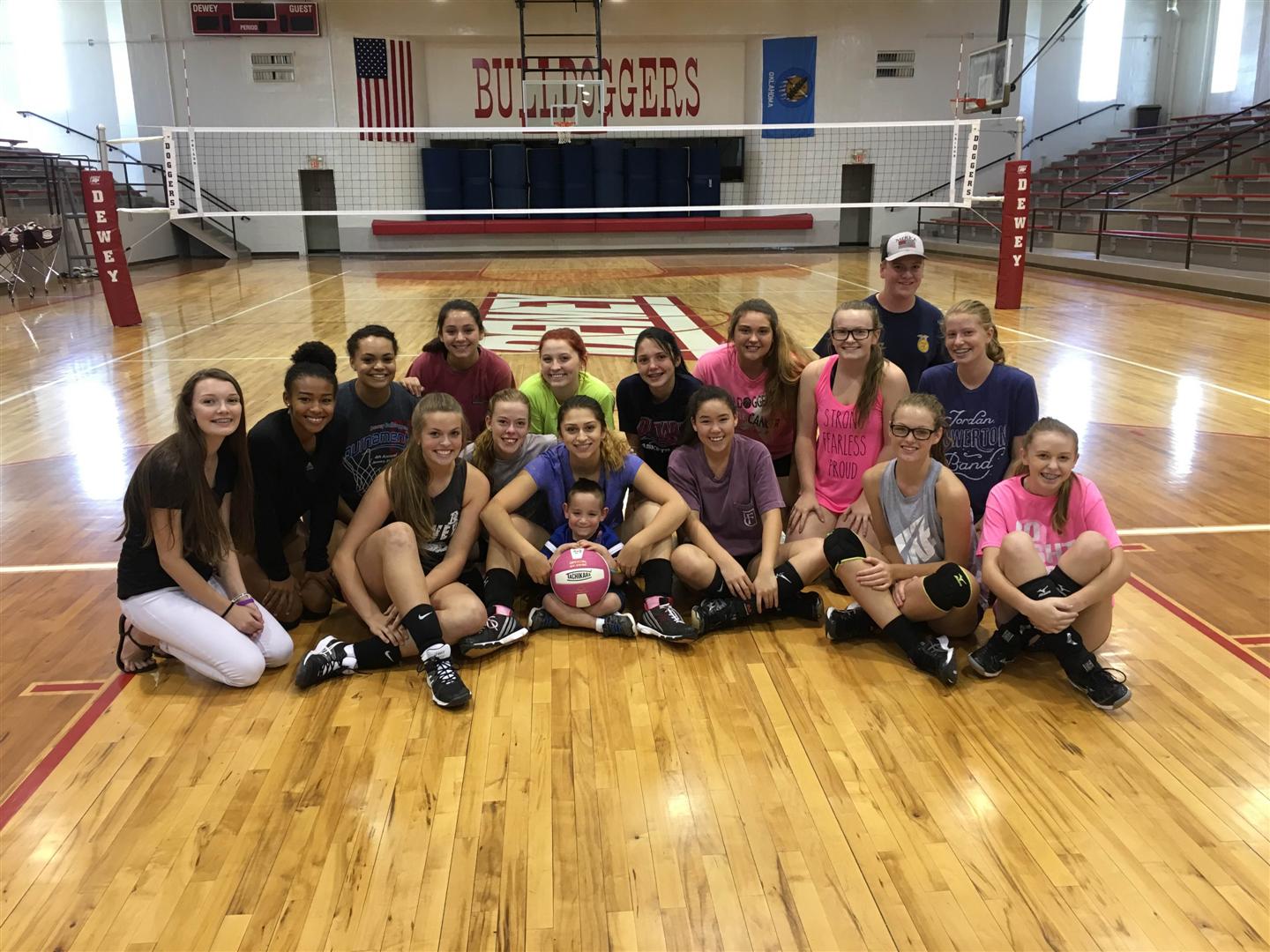 The Lady Doggers hosted Oklahoma Union for its annual Pink Out game. After losing the first set, Dewey rallied back to win a close five set match. Thanks for showing your support for them, and for Christian Smith, Dewey 1st grader. This year's effort raised more than $1800 dollars.
Congratulations to Tanya Moody!!
Dewey Public Schools Teacher of the Year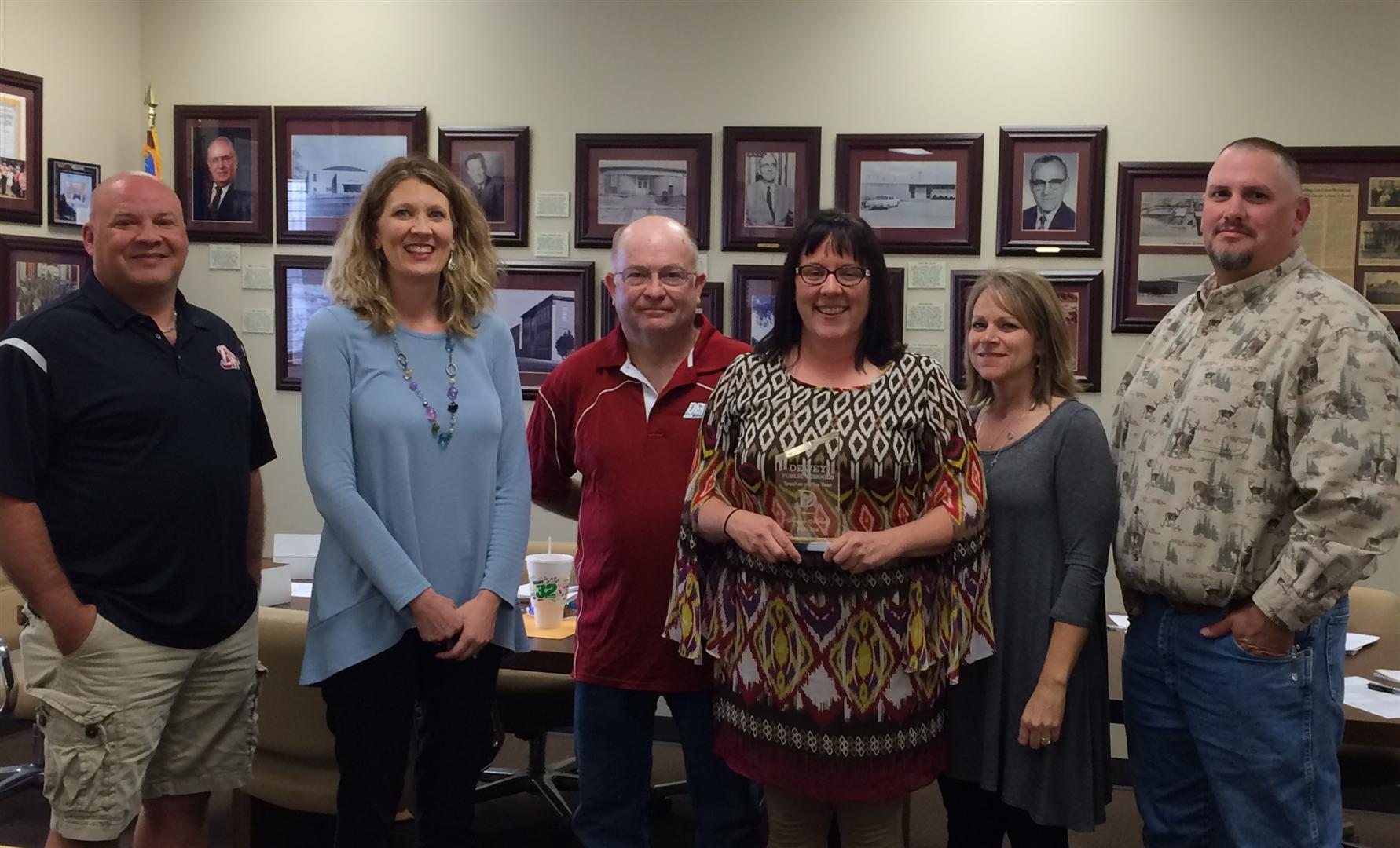 Dewey Public Schools would like to congratulate Tanya Moody, 2nd grade teacher, on being selected as Dewey Public Schools 2016 Teacher of the Year. Tanya has been teaching at Dewey since 1999 and taught at Bowring Public Schools prior to that. Tanya received the selection by first being honored by her peers in the elementary school as their teacher of the year. After that honor, Tanya was chosen by a committee as the district teacher of the year among 3 candidates, Travis Ruble (MS) and Dan Close (HS). Tanya states that her family most influenced her to become a teacher, specifically her grandmother and aunt. She has earned a Master's Degree in Reading and is National Board Certified. Tanya believes the best best way to strengthen and improve the teaching profession is to continually try to improve herself as an educator.
AN IMPORTANT NOTE ABOUT EMAIL AND TEXT ALERTS. Click the link below to sign up for alerts. PLEASE PAY SPECIAL ATTENTION TO EACH PAGE AS THERE ARE SEPARATE CONFIRMATION STEPS FOR BOTH EMAIL AND TEXT ALERTS.